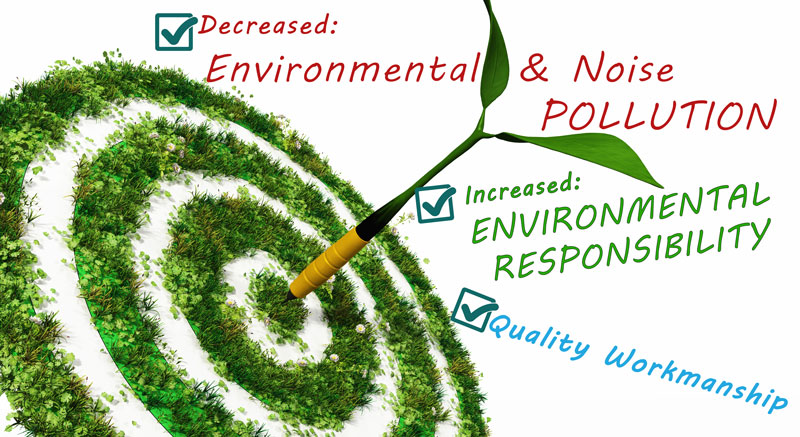 Why Us?
The Enviro Mowers
Advantage.
Wouldn't it be great to sleep in late and not have to worry about getting woken up by the loud roar from gas powered mowers and other lawn service equipment?
Or maybe you're enjoying some peaceful time at home watching TV, reading, or just relaxing when you hear the familiar thumping sound of those same annoying gas-powered mowers.
Isn't it time to keep your home your quiet place at all times?
We think so. And that's why more customers are 'waking up' to the Enviro Mowers Advantage.
You can get a beautifully manicured lawn with our service and even if you're home you'll hardly notice we're there!
That's just one of the many reasons we're the first choice for lawn mowing services in the Miramar and Pembroke Pines area.
Our goal is to fit seamlessly into your world when we step onto your lawn to make it beautiful – not disturb your peace and quiet.
Here are some other reasons that Enviro Mowers is a premier lawn maintenance company in the Miramar & Pembroke Pines areas:
We background check and drug test all of our lawn care professionals.
We're just a phone call away to take care of any lawn care issues you may have.
We treat our talented lawn care technicians well so that they always do great work and take pride in what they do.
Equipment problems are never an issue as we have backups for all of our lawn equipment. You'll never have to worry about your grass being cut when scheduled.
All of our lawn mowers and most of our lawn equipment are 

zero emissions

. We take pride in being ONE OF the 'greenest' local lawn care service companies in the area.
Most of our lawn maintenance equipment is solar powered, which is also better for the environment and your lawn.
We manage and control our costs closely so that we can offer you excellent service at an affordable price.
Ask us about our discounts and lawn referral programs!
Our management keeps in touch with you and we complete periodic site audits to make sure our lawn mowing crews are doing a great job.
Check out our 50% off your first month's lawn mowing service!
Pollution Comparison
Gas Lawn Mowers VS Electric
It's a fact – Using electric mowers cuts harmful environmental pollutants from entering the air. We do our best to have a near zero emissions policy.
By hiring us you not only get a great lawn care company, you are also doing your part to help the environment.
Studies have shown that gas powered lawn mowers produce more pollution than 8 or more passenger vehicles. In one study by Edmunds, one 2 stroke leaf blower run for 30 minutes, produces an equivalent amount of harmful gas as a 2011 Ford F-150 truck run for 3,900-miles!
"The EPA estimates that over 17 million gallons of fuel, mostly gasoline, are spilled each year while refueling lawn equipment. That's more than all of the oil spilled by the Exxon Valdez, in the Gulf of Alaska. In addition to groundwater contamination, spilled fuel that evaporates into the air and volatile organic compounds spit out by small engines make smog-forming ozone when cooked by heat and sunlight."
2 Stroke Gas Leaf Blower (used for 12 minutes)
95.4grams
2011 F-150 Raptor (driving for 4 hours)
68.64grams
Enviro Mowers Equipment (used for 200 hours)
0grams
Affordability is Key
Being the Best & Unaffordable is Pointless
Even with all of the advantages that Enviro Mowers brings to our services, we still pride ourselves on being among the most affordable and highest quality lawn care companies around.
We have become experts at keeping cost down while keeping quality high. Some of the ways we help to drive costs down is by offering numerous discount incentives. Below is a list of some of them:
Military Discounts
First Responder Discounts – (Law Enforcement, Fire Department, & Paramedics)
Referral Discounts
Educator Discounts
Automatic Payment Discounts